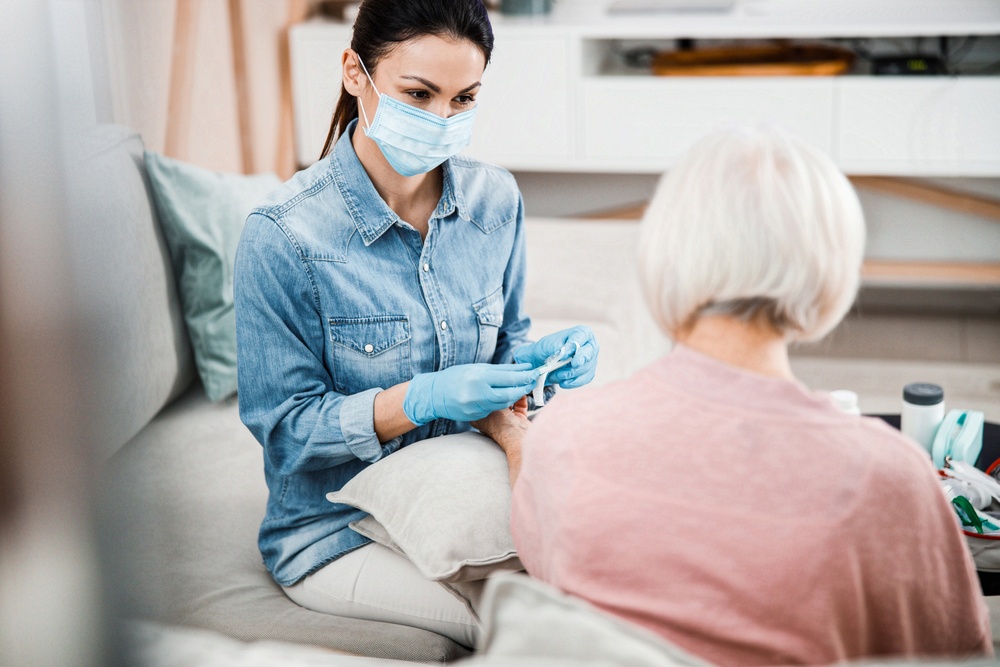 Nancy is 85 years old and has advanced dementia. She lives with her husband John in Sun City, Texas, and is unable to care for herself. For the past year, Nancy has relied completely on the care provided by her husband and in-home care professionals. In early March we received a call at the office from John. He was concerned about how to keep his wife of 50 years safe while ensuring the essential care upon which he and Nancy have come to rely.
That same week we received calls from many concerned families. John was not alone in his fears. According to the National Association of Home Care and Hospice (NAHC) more than 12 million Americans receive in-home care each year. Many receive assistance with activities of daily living (ADLs), meal preparation, and transportation. These services are vital for seniors to age safely in place.
Caregivers use personal protective equipment (PPE) and proper handwashing to ensure clients and staff are protected while care is provided. This is ingrained in our processes and is not new to COVID-19. However, new requirements have emerged as a result of the current pandemic. First, as many business have discovered, we have focused on supply partners in order to ensure a consistent supply of PPE. Also, we have increased the frequency of continuous education plans for caregivers concerning infection control and added specific details on COVID-19 to our emergency management plan. To ensure policies are strictly followed, we are making more unannounced in-home visits for oversight. Among other things, we are monitoring Texas Health and Human Services required symptom screening before each shift, caregiver temperature monitoring, proper use of masks and hand washing per CDC guidelines, and the continuous disinfection of high touch surfaces.
It is important to communicate with the agency when choosing in-home care during the pandemic. Here are a few questions to ask an agency so that you can choose one that is following state and national guidelines:
What protocols do you have in place to keep people protected from COVID-19?
Do you require that staff wear masks during visits with my loved one?
What is the communication process with the office if my loved one or family has symptoms of COVID-19?
How are you monitoring caregiver temperatures?
If you are looking for in-home care in Austin and the surrounding areas, Blue Water Homecare is the premier non-medical home care agency helping seniors age in place. Please call us at 512-872-2955 if you want to schedule a complimentary in-home or virtual consultation and home safety evaluation.